THIS COMPETITION IS OVER!
THANKS FOR JOINING IN!
The lucky winner is Luke Pinney from UK!
CONGRATULATIONS!

Stay tuned for the next competition.
Join the fatalii.net Full House competition!
There are VERY GOOD chances of winning this unbelievable prize.
Order Fatalii's Full House seed package from here during this month (March) (03/2012) and you are automatically in the competition.
Lower price for Full House seed collection during this month!
The competition ends when the month changes to april (Finnish time!)
The Prize shown below!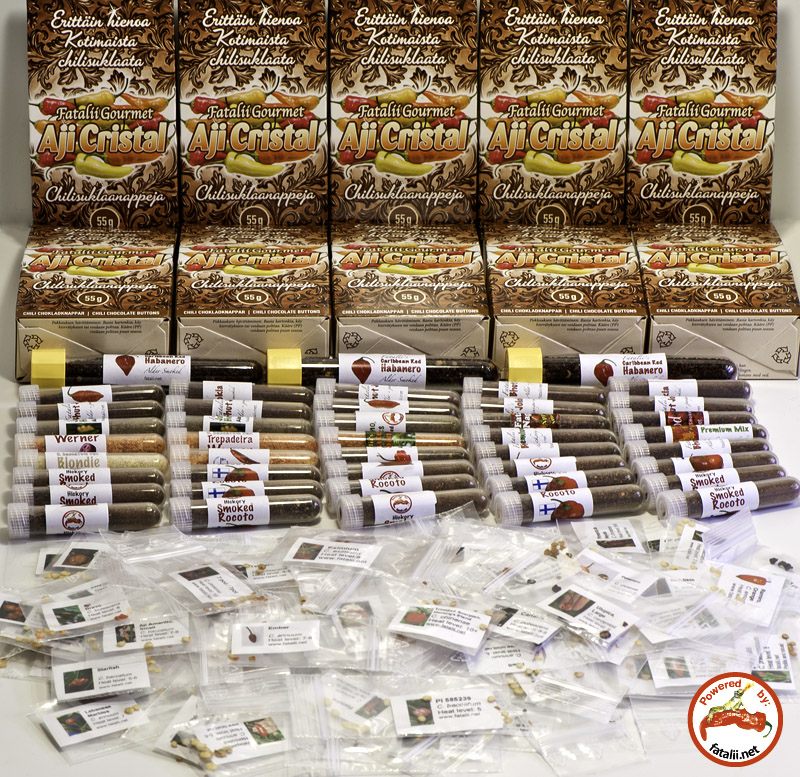 Includes all this:
-100+ varieties of chile pepper seeds!
Includes the hottest, the most beautiful, the tastiest, the most prolific and the most rare wild species you can find.

-43 x super exclusive chile powders including:
15 x Hickory smoked Rocoto mix!
12 x Alder smoked Bhut Jolokia powder
3 x Alder smoked Caribbean Red Habanero
3 x Alder smoked Jalapeno Hercules
2 x Trepadeira Werner
2 x Hickory smoked Premium Mix
1 x Blondie
1 x Alder smoked Starfish
1 x Apple tree smoked Naga x Ramiro
1 x Apple tree smoked 7pot
1 x Omnicolor
1 x Tepin, Guatemala

All grown and processed in Finland!
Pure chile powder, nothing else.
Top quality, super tasty and smoky powders.
-10 x Fatalii Gourmet Aji Cristal Chocolate

-Some suprises... includes some new products that hasn't been released yet!
Let's be honest here... this is the prize you can't win anywhere else.
Everything a true chilehead can wish for and so much more.
Value over 600€!
So get your Fatalii's Full House chile package from here and you are in the competition!
Winner will be announced here during next month (04/2012).
He / she will also get an email about the great news personally.

Good luck!