Contributed by Tommi Nummelin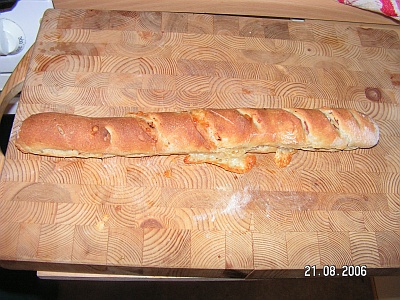 No more dull baguettes!

½ l water
1 packet of yeast (50 g)
½ dl salad-oil
15 dl wheat flour
1 tablespoon sugar
2 teaspoons salt
fresh on powdered chili
cheese
torn ham

Crumble the yeast to handwarm water and spice it with salt.
Let dissolve before you add other ingredients. Now add the
salad-oil, sugar and flour. Knead the dough simultaneously.
Let the dough expand under a towel for about half an hour.

Roll the dough to plates length of your oven plate, 10 cm
wide and half a centimeter thick. Spread the stuffing on
the dough and roll them to a baguette. Once again, let expand
for a while. Bake the baguette at 220 degrees for estimated 15
minutes. If you like, you may grease the baguettes with egg,
milk or even garlic and water. You can also cut the baguette's
surface crosswise fore the baking.
The how-to in pictural form: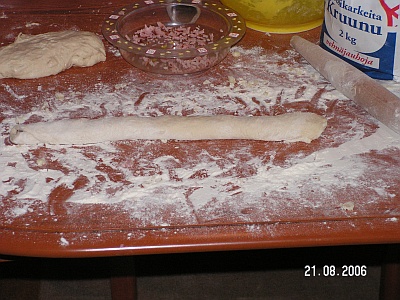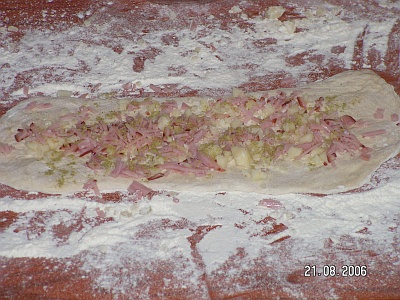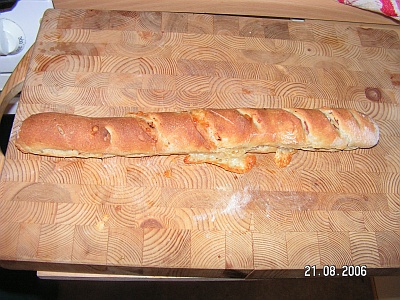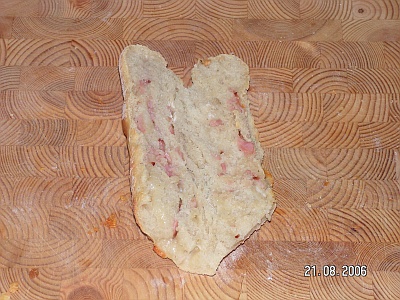 Recipe by Pertti Viitanen.
Last Updated ( Tuesday, 31 October 2006 )